It's a firecracker of a week with as we start with a solar eclipse in Cancer, which falls directly on the U.S. Sun in the 7th house of "open enemies". It's not quite as dramatic as it sounds, but for sure, as a country, we are looking at significant events ringing in a new way of interacting with other countries. For us, it simply means we can see where we are falling short in the "love thy neighbor" department and can take meaningful steps to bridge the gaps. But it starts with each of us. Remember the old saying keep your friends close and your enemies closer. Again, most of us don't really have actual enemies, but in our personal lives we may find conflict with another person from time to time. Use this energy to get to know them, what makes them tick, what is truly in their heart. You may find it possible to muster up some tolerance and acceptance. And acceptance doesn't mean you condone their behavior, it just means you accept them for who they are and stop trying to change them. Think about how often we do this with others. It's the very definition of intolerance. And it only hurts us. This is the message of the planetary events this week. And it is a huge turning point for those willing to do their inner work.
It's amazing how sometimes the people who bother us the most reflect to us things we dislike about ourselves. Dig deep, look closely and under this week's conditions, you can free yourself from a lot of needless anger, pain and suffering. Because chances are, that person you despise has no idea or couldn't care less or isn't even aware you dislike them. So letting go and forgiving is for you, not them. That ex, that boss, the co-worker, the colleague, the family member…forgive so you can heal.
Solar eclipses fall on New Moons which are wonderful times for setting intentions, creating new thoughts and habits, taking brave steps toward goals, and resetting your course. Once you've let go and forgiven, you can begin to set your sails in a super positive direction. I actually love eclipses. I always appreciate a do-over opportunity. It is sad to see all the sensationalism and fear created by writers who know very little about astrology creating attention grabbing headlines with terrifying articles, videos and blogs on eclipses. We have them 3-4 times a year. It's not news, although I do kind of appreciate all the attention astrology does get at these times, let's promote the positive side of things. Take advantage of the energy to turn your life in a better direction now and worry less about "bad things" happening. Bad stuff happens every day-it's how we deal with it that makes our lives miserable, or joyous. Our choice. Always.
And of course, most of you astrology fans know, on Sunday, our planet of communication, Mercury, turns retrograde. As always, several days before we feel it and the winged messenger is already in its storm. Live your life, but just notice what you notice. Remember to double check schedules, re-read emails, be clear and focused. With the solar eclipse and this Mercury retrograde there will be a lot of reflecting back on the foundations of your life, relationship with your mother or nurturing parent, your connection to your home of origin and you may find closure around relationships in your past that helped you define your boundaries and taught you to speak up for yourself.
Have a safe and happy 4th of July!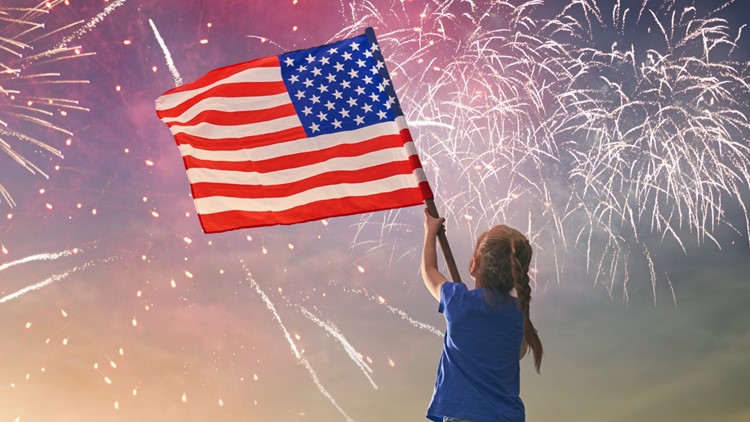 Aries (March 21-April 20) Family takes priority as you reconnect and reminisce. This is a wonderful week for a get together with all the distractions of fireworks, cookouts and days at the beach it'll be easy to avoid any confrontations that seem to play out at family gatherings. Keep it light, keep it fun and let the emotional healing happen naturally as you accept others for who they are.
Taurus (April 21-May 20) You've learned a lot about yourself recently and a chance meeting with an old friend brings this to light. As you chat about the good old days, you'll realize the extent of your personal growth. As you move into this next phase of your life, you'll find opportunities to gain support from family for things you thought they'd never approve of.
Gemini (May 21-June 20) The week starts with some concern over money but ends on quite a happy note. As the eclipse as well as Venus move into your financial zone, you'll want to balance out your needs/desires with what you can do to make money that brings you peace. This could mean quitting a second job so you have more family time, or asking for a raise so you don't have to find another source of income. Be brave and go for what works best for you.
Cancer (June 21-July 22) When Venus moves into your sign on Wednesday you'll notice others complimenting you more. You're more ambitious now and your engaging personality and kindness will take you far. Pick your battles on Sunday when others may seem to have a totally different idea about what your motives are. But overall this can be a good week for Cancers to show a different side of themselves.
Leo (July 23-August 22) The start of the week is full of catching up on texts/emails and mid week gets quite busy. Saturday will be your day to shine! Because of all the excitement, and the fact that the eclipse takes place in your 12th house of solitude, make sure you're taking the time you need to recharge and nurture yourself. Set intentions around more self care and healing relationships with any family members who may be pushing your buttons.
Virgo (August 23-September 22) Your social life kicks up a notch or two and you'll enjoy the company of close friends. Keep it light or you could end up in the middle of solving everyone's personal problems. With Mars in your 12th you'll be doing some emotional housecleaning as you prepare for this next phase of your year. If you feel "uncomfortable" mid week, just feel your way through it-some deep answers can come now.
Libra (September 23-October 22) This week is quite exciting for Libras as you bounce from one event to another. With the solar eclipse in your 10th house, changes at work can have you scratching your head as people seem to be overly emotional around you. Step back a bit and see where you can be most useful in getting everyone to the goal.
Scorpio (October 23-November 21)Overall this is a good week for Scorpios with all this watery energy allowing you to dream big and connect with others at a distance. Travel plans can be worked out but with Mercury's condition, it may be best to wait to purchase tickets until he straightens out. Watch your mouth-Scorpio words can be cutting and this week you are prone to saying something off the cuff that can hurt another. If you do, make amends right away. Remember to lead, not drag others kicking and screaming.
Sagittarius (November 22-December 21) Adventures await! Where do you see yourself 6 months, or 1 year from now? It's time to create a plan and set things in motion to get you there. Whether it's a move, new job, or joining the Peace Corp, take some action to get the ball rolling. Moments of sentimentality can stop you in your tracks this week. Take a breath when these memories pop up and allow the real feelings to wash over you.
Capricorn (December 22-January 19) Remember the "open enemies" thing I talked about? While no one is actually your enemy, there may be a relationship that could be mutually beneficial if you just get past your intolerance of the person. I'm not saying trust them with your bank account, but you can find lots of ways now to work together for the common good. Your partner may be feeling a little left out so make sure you give lots of love and your time to those closest to you. This is an interesting week of balancing power, respect and compassion.
Aquarius (January 20-February 18) The action mostly takes place now in your 6th house of service, daily routines, pets, your work environment…just kind of the day to day stuff. And all of this is going to have you feeling like mom to many, but it'll be fun while it's happening. Whether it's fur babies or co workers who depend on your get-it-done work ethic, you'll be busy as a bee. Now feel free to run yourself into the ground if you want, but I'd suggest you stop right now, yep right now, get out your calendar, and block of some down time here and there throughout the week. Or you're likely to keep going to the point of exhaustion. And when Mercury is retrograde, that could cause some of those "did I say that in my loud voice?" moments if you're not careful.
Pisces (February 19-March 20) My suggestion for Pisces this week is to be childlike, play, create, do the things that bring you the most happiness as much as you can. The reality is, so much is going to shift and change in your daily life you'll just have to laugh it off. Set your New Moon intentions around the subject of standing up for yourself. You're no dummy, people just tend to think you're a pushover because of your easygoing nature. Show them your inner lion's roar. Be tactful, but firm. Remember that old saying "No is a complete sentence.". Now go have some fun.
If you'd like to know how the planetary action can bring positive change, love, and help you create a life you're just plain crazy about, contact Suzie for a private appointment. click here!
Readings can be done in person in the Nashville area, or anywhere in the world via Skype, Facetime, Zoom or on the phone.